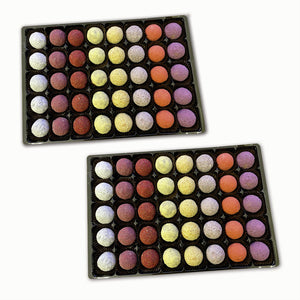 Most types of truffles are coated by hand and rolled in fruit powder, cocoa, sugar, nuts, coconut or toasted breadcrumbs (as in the popular Xocolat-Manufaktur apricot dumplings). We call this "hand-rolled", which results in a very thin chocolate coating and allows the creamy filling to come into its own.
Please choose from the following categories:
& gt; Mix of the seasonally most popular varieties
& gt; non-alcoholic
Please go to the cash register and write your request in the box "order note". If you know your favorite varieties by name and name them, we will fulfill your wish as best as possible (however, with a range of more than 70 varieties, individual varieties may not be available in some cases - we ask for your understanding).
Product information
| | |
| --- | --- |
| Ingredients | Sugar, cocoa butter, cocoa mass, whole milk powder, almonds, Hazelnuts, apricot puree, raspberry puree, butter, glucose syrup, sorbitol, emulsifier: soy lecithin, natural vanilla extract |
| allergens | Milk, soy, nuts, gluten |
| Nutritional values ​​ | 100 g contain: 562 kcal / 2356 kJ ; Fat 36 g, of which saturated fatty acids 23 g; Carbohydrates 51 g, thereof sugar 49 g; Protein 8 g; Salt 0.07 g |